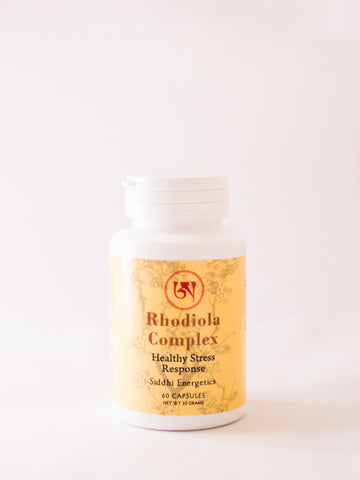 Rhodiola Complex - Siddhi Energetics. Healthy Stress Response
Rhodiola Rosea is one of the most powerful adaptogenic herbs available today. Found in the Tibetan and Siberian highlands, it has been used for thousands of years as a powerful tonic, effortlessly supporting the body's ability to deal with stress. Rhodiola Complex pairs this potent extract with Eleuthero, which enhances and increases both ingredients' effects.
Effective as a tonic, adaptogen, and general supplement, the use of Rhodiola Complex can help optimize both physical and mental performance in a variety of ways. Rhodiola has been shown in studies to have a number of important effects, including:
Mental rejuvenation
Enhancement of physical performance
Stress relief
Cardio protectant
Relief of anxiety and depression
Sexual tonic
Hormonal balancing
Weight loss
Rhodiola Complex is standardized to 3% Rosavins and 1% Salidrosides (rhodiola) with 1% Eleutherosides (Eleuthero). This combination has been clinically proven to be the most effective. 

Directions
Take 1-2 capsules once or twice per day. Note: taking this supplement late in the evening may interfere with sleep.