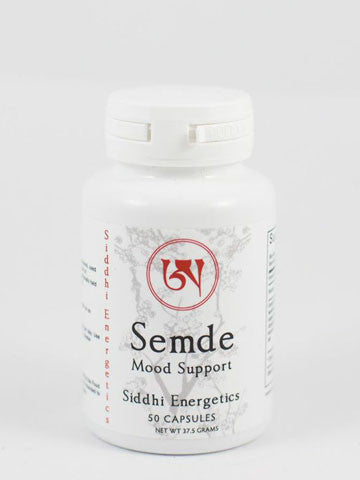 Semde- Mood Support Siddhi Energetics
Feeling down? Bring life back into focus with Semde.
We all have bad days. Unfortunately, bad days can easily expand into weeks, months, and even years. Breaking this negative cycle and taking charge of your emotional life can sometimes feel impossible. Semde can offer you the relief you need so you can get back on track.
Uses*: Mood Support
-Persistent Sadness
-Depression
-Seasonal Affective Disorder
-Stress Management
About Semde
Semde is a traditional Tibetan herbal compound hundreds of years old. In Tibet, it is recommended in Tibet for conditions including persistent sadness, unhappiness, and depression. In Tibet, this includes mild, moderate, and even severe depression, Seasonal Affective Disorder (SAD), and "the blues". The Tibetan doctor who makes this formula describes his patient's experiences like this: "My patients often experience freedom from depression in just a few days, often in hours, after taking Semde. Many people use Semde to manage stress and depression on a daily basis and find that their overall quality of life increases. I have rarely met a Westerner who hasn't benefited from Semde."*
Semde is also made solely from natural ingredients of the Nepalese and Tibetan highlands. If you are interested in avoiding pharmaceutical drugs, Semde may be right for you.
Tibetan medicine and Ayurveda have long recognized that conditions such as depression appear as a result of many factors, found both inside and outside the body. Famous Tibetan physicians including Tenzin Choedrak and Dr Yeshe Donden, as well as their patients (most famously HH the Dalai Lama) rely on formulas such as Semde to manage the internal aspect of these disorders.

In combination with Siddhi Energetics Agar 35, a US drug rehabilitation center uses Semde to successfully help people recovering from opiate addition.

Bob Flaws, well known acupuncturist and expert on Chinese herbal medicine, has this to say about Semde:

"We can see that this formula mainly consists of qi-rectifying and stomach-harmonizing medicinals to downbear counterflow. These then are combined with medicinals which warm and supplement the spleen and kidneys as well as nourish the blood. Perhaps the unique thing about this formula (which Chinese doctors do not seem to recognize) is that there can be upwardly counteflowing qi harassing the heart with a spleen-kidney yang vacuity below but without any discernible heat also harassing the heart spirit. In any case, I believe that this formula contains enough standard Chinese medical ingredients that serious thought should be given to its inclusion within our repertoire."
*These statements have not been evaluated by the FDA. This product is not intended to diagnose, treat, cure, or prevent any disease.
Semde is a traditional Tibetan compound, prescribed for depression, and all types of anxiety related conditions. These include: restlessness, irritability, lack of concentration and depression.*
Take two pellets or capsules in the morning with hot water, on an empty stomach. If using pellets crush them in the mouth before swallowing.
Suggested maximum amount is two pellets per day. Use Siddhi Energetics Agar 35 at night and Semde in the morning for greater support.
Serving: Two Pellets/Capsules
Servings per container:25
Amount per serving % Daily Value: 2g*
*daily value not established